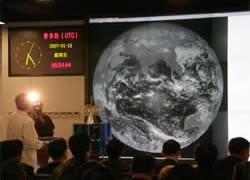 At 14:00 pm on January 12, the National Satellite Meteorological Center obtained the first set of infrared images from the five-channel visible infrared scanning radiometer onboard the Fengyun-2D, the second geostationary orbit meteorological satellite which was launched four days earlier.

  As a major payload of the satellite, the scanning radiometer was independently developed and built by scientists from the CAS Shanghai Institute of Technical Physics. Experts say the image received via the system is clear with distinct gradation, showing China's R&D capacity in building weather satellites has up the world's advanced level.

  The Fengyun-2D will form a twin-star observation system with Fengyun-2C, China's first geostationary orbit weather satellite which went into orbit on Oct. 19, 2004, according to the China Meteorological Administration (CMA). The two satellites have their own observation tasks, but can also replace each other if one of them malfunctions, the CMA says. The new satellite will help this country bolster weather monitoring information from western China where cold fronts and sandstorms usually begin.