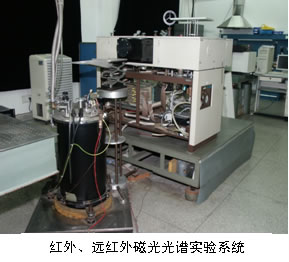 NATIONAL LABORATORY FOR INFRARED PHYSICS IS AFFILIATED WITH SHANGHAI INSTITUTE OF TECHNICAL PHYSICS, CHINESE ACADEMY OF SCIENCES. IT IS FINANCIALLY SUPPORTED BY THE STATE PLANNING COMMISSION, THE MINISTRY OF SCIENCE AND TECHNOLOGY, AND THE CHINESE ACADEMY OF SCIENCES.
  THE MAIN RESEARCH INTERESTS FOR THE LABORATORY ARE INFRARED OPTO-ELECTRONIC PHYSICS AND THE INTERACTION OF INFRARED RADIATION WITH MATTERS, INCLUDING PHYSICS FOR INFRARED DETECTION MATERIALS AND DEVICES, SPECTROSCOPY AND OPTICAL PROPERTIES OF LOW-DIMENSIONAL SEMICONDUCTOR SYSTEMS, LOW ENERGY EXCITATIONS AND THEIR INFRARED SPECTROSCOPY OF CONDENSED MATTERS, PHYSICAL PROPERTIES AND OPTO-ELECTRONIC PROCESSES FOR NOVEL INFRARED OPTO-ELECTRONIC MATERIALS, INTERCROSSING AND HYBRIDIZATION OF INFRARED PHYSICS AND OTHER DISCIPLINES.
  THE NATIONAL AND INTERNATIONAL ACADEMIC COOPERATION AND EXCHANGE RELATIONSHIPS HAVE BEEN EMPHASIZED AND DEVELOPED SUCCESSFULLY. THE LABORATORY ACCEPTS AND SUPPORTS VISITING SCHOLARS FOR COOPERATION PROJECTS RELATED TO THE RESEARCH INTERESTS OF THE LABORATORY.